Great year for the JP/NP team – especially the freestylers had a great end to the season.

Photo credit: John Carter / pwaworldtour.com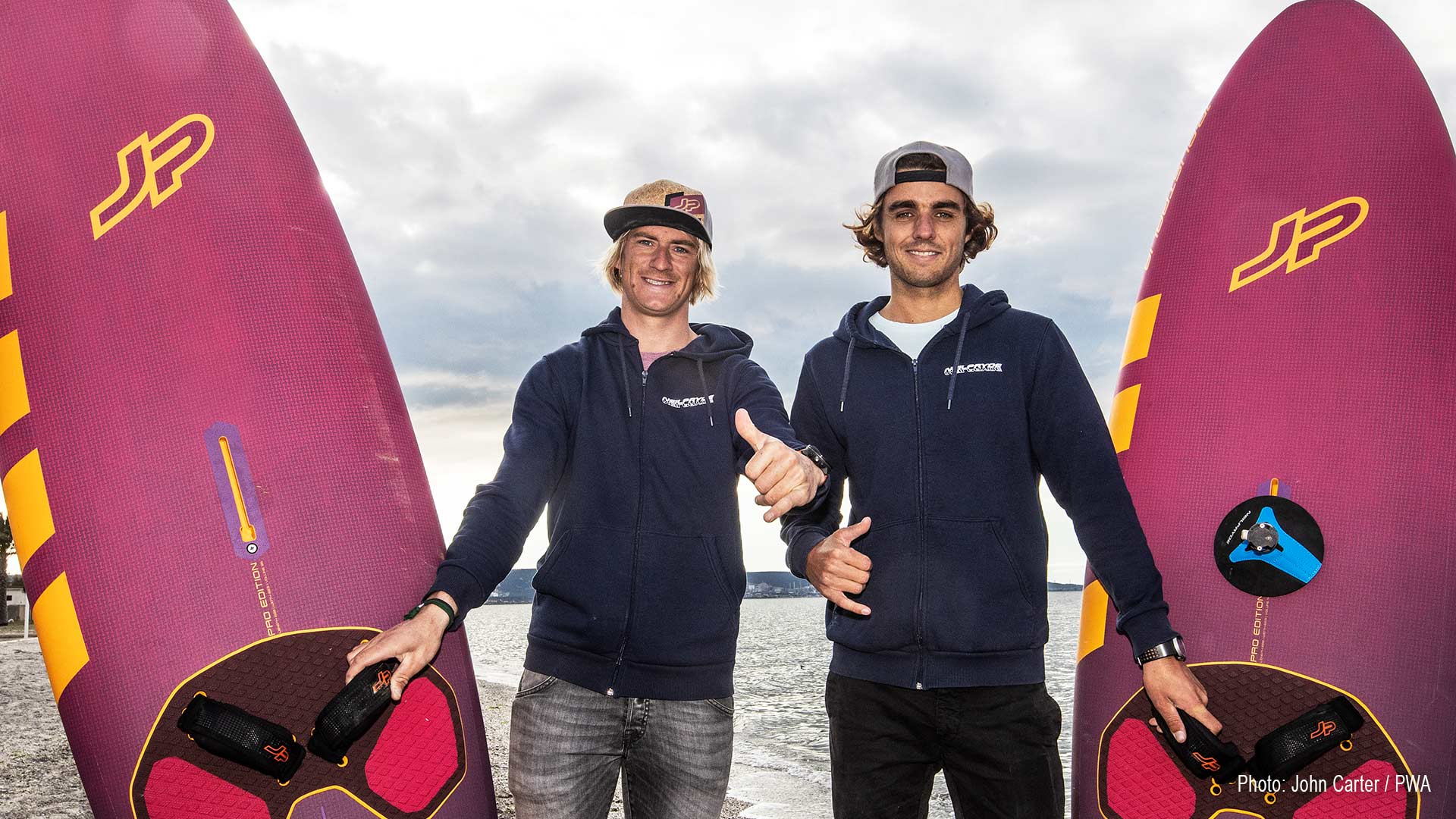 Marignane, France – 12-21. November 2021:
Freestylers score at the only PWA event
Yentel Caers BEL-16 on the podium –– 3rd
Sam Esteve F-79 and Olya Raskina RUS-14 –– 5th
Nico Akgazciyan –– 9th.
Yentel Caers BEL-16 looks back to his season:
2021 was they year I return to the brands which helped me getting to the top!
The season started off with the 5-day EFPT event at lake Neusiedl in Austria. First thing at 6 o'clock every morning was the compulsory PCR test which you could easily accept as we all have been waiting for more than a year to finally compete again. Unfortunately, the wind didn't show up until the very last day – gusty but powerful enough for the 4,8 wizard and 93l freestyle – and stayed just long enough to complete the double elimination where I finished 3rd.
After that we had to wait a long time for the next competition – many events got cancelled just last minute.
In August, it was time for Engandin Wind, Silvaplana, Switzerland – a tow-in EFPT event. I see tow-in as a show but still like to win it as well. The new competition format pushed us to go big. I finished in second place with my team mate Sam Esteve in third.
In between the events I travelled between the sea at home and Lake Como & Garda to sail as much as possible in varying conditions and practise some moves.
Next event was in Theologos, Greece, a spot which usually sees moderate winds and choppy conditions mostly for 5,0 sail or bigger. This time we were lucky to get stronger winds – 4,8 full power – with some waves for jumping on the outside. In the single elimination I didn't start off so well and lost in early rounds. With a little anger and fired up, the double elimination was much better. I made up for what I lost in the single, winning 7 heats in a row, losing against Amado in a close final. Tired and exhausted the day ended happily with this second place!
With this remaining the only EFPT Freestyle event of the year, this result also put me in second place overall!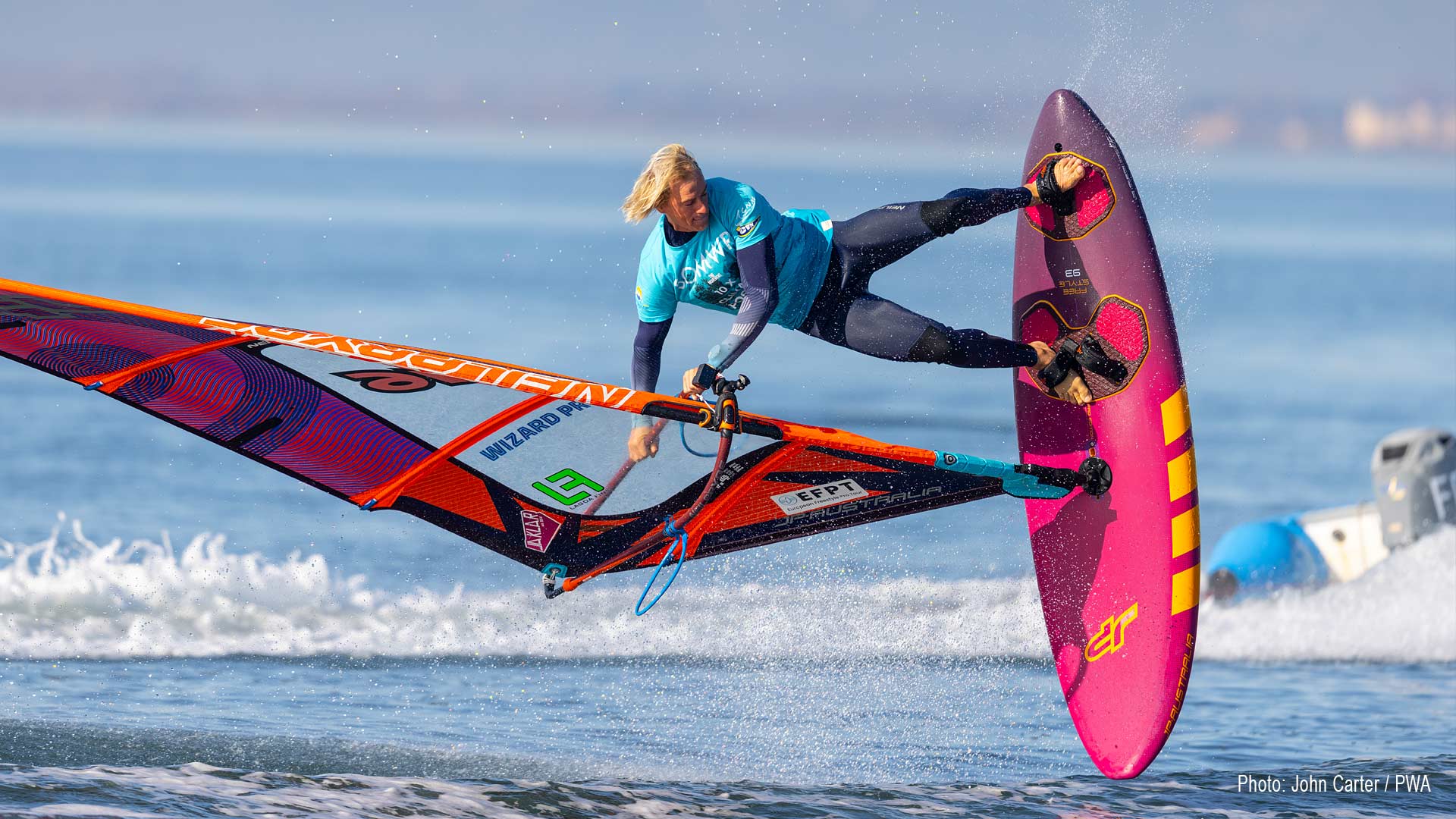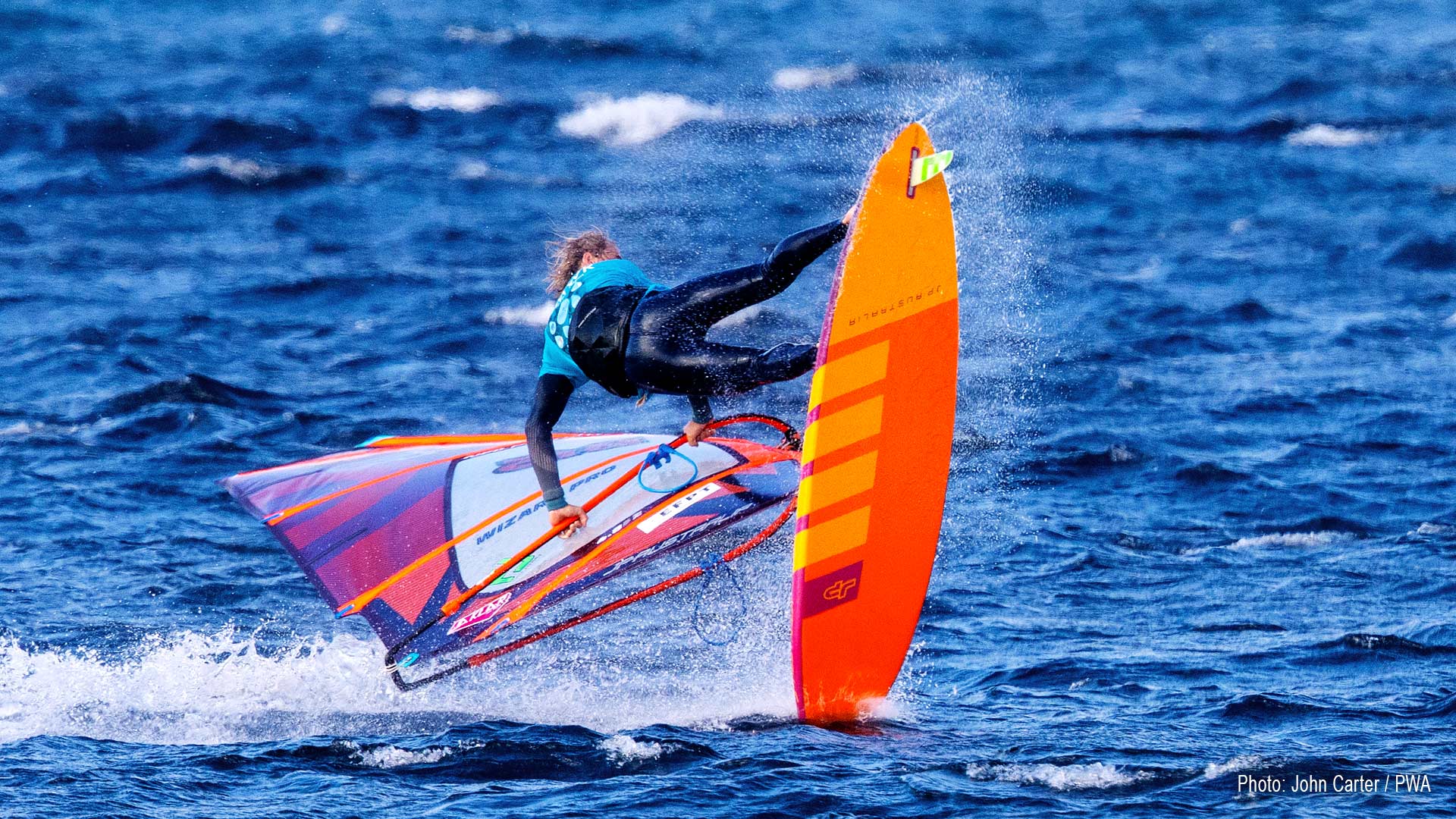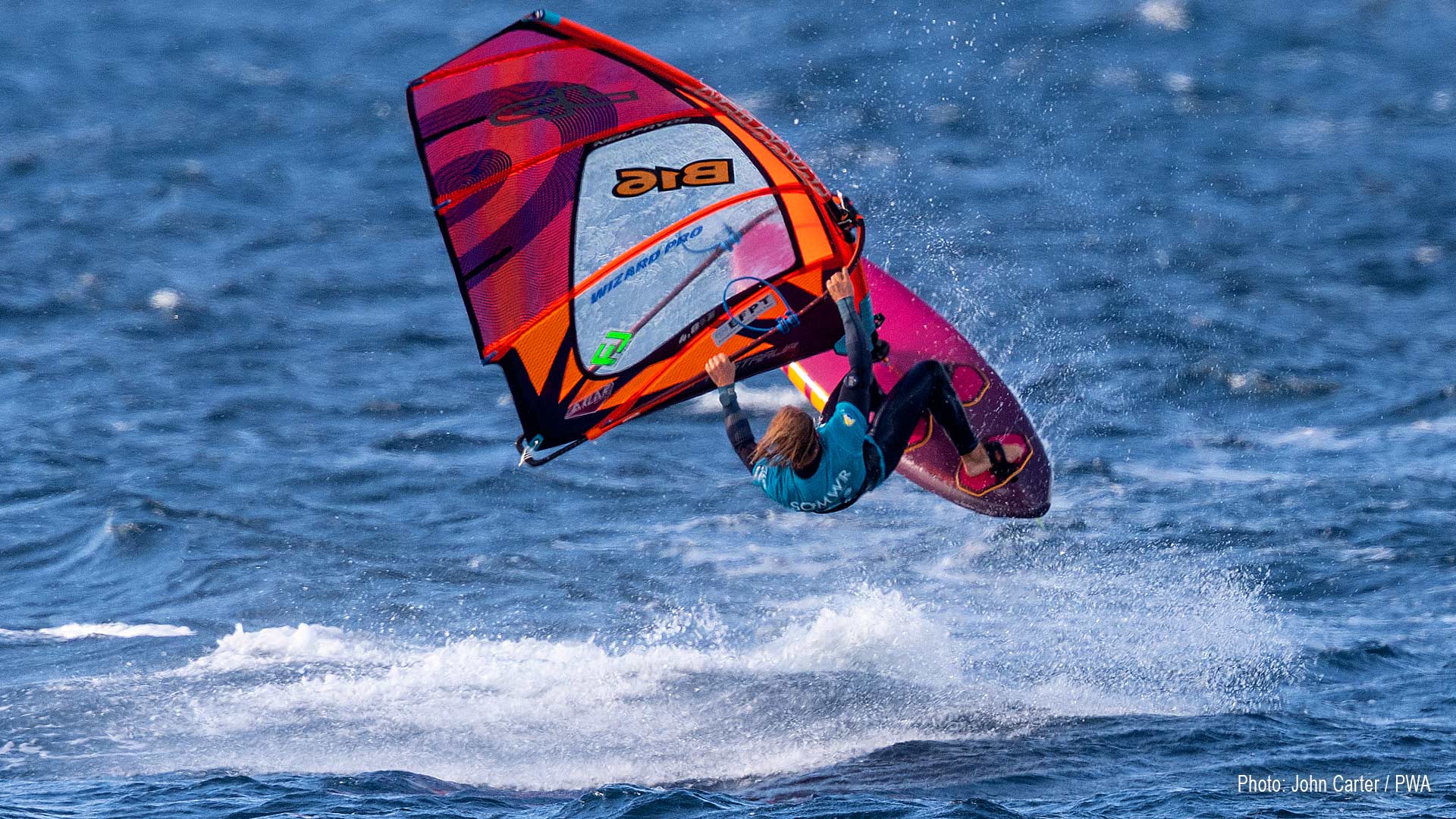 Geneva, Switzerland, hosted the next event with something completely: new Foil freestyle and tow-in. Unfortunately, there was not enough wind for foil-styling, but we did the best tow-in action ever. A wakeboard boat created ramps that catapulted us to another level even enabling new, triple rotations. I'm super happy winning this event and also sharing the podium with my team mate Sam in 3th place.
Next up was a PWA event – finally: PWA Worldtour Marignane – a 10-day Freestyle/ wave/ slalom event in France.
As freestylers we were lucky to be able to move in between Carro and La Jai. Being on standby, we finally got some wind on the forecast. Early and cold, the morning session started with some good 5,2 winds.
Already in the 3th round I was up against team mate Sam Esteve – we always have great battles because we have similar trick books.
I took the win to go on into the next round. Then, unfortunately, the wind disappeared and the waiting game continued until next morning when the wind filled at sunrise. It was steady enough to complete the single elimination. I was happy to finish in 3rd place because it was very tricky in these conditions. I still hoped for a double elimination but the wind never showed up again for the rest of the event. At least the freestylers where the ones to score and have an event with a result, pictures and a tow-in show.
Season Summary – Yentel Caers BEL-16
2 – EFPT Overall Freestyle
2 – EFPT Overall Tow-In Freestyle
3 – PWA Overall Freestyle
Season Summary – Sam Esteve F-79
7 – EFPT Overall Freestyle
3 – EFPT Overall Tow-In Freestyle
5 – PWA Overall Freestyle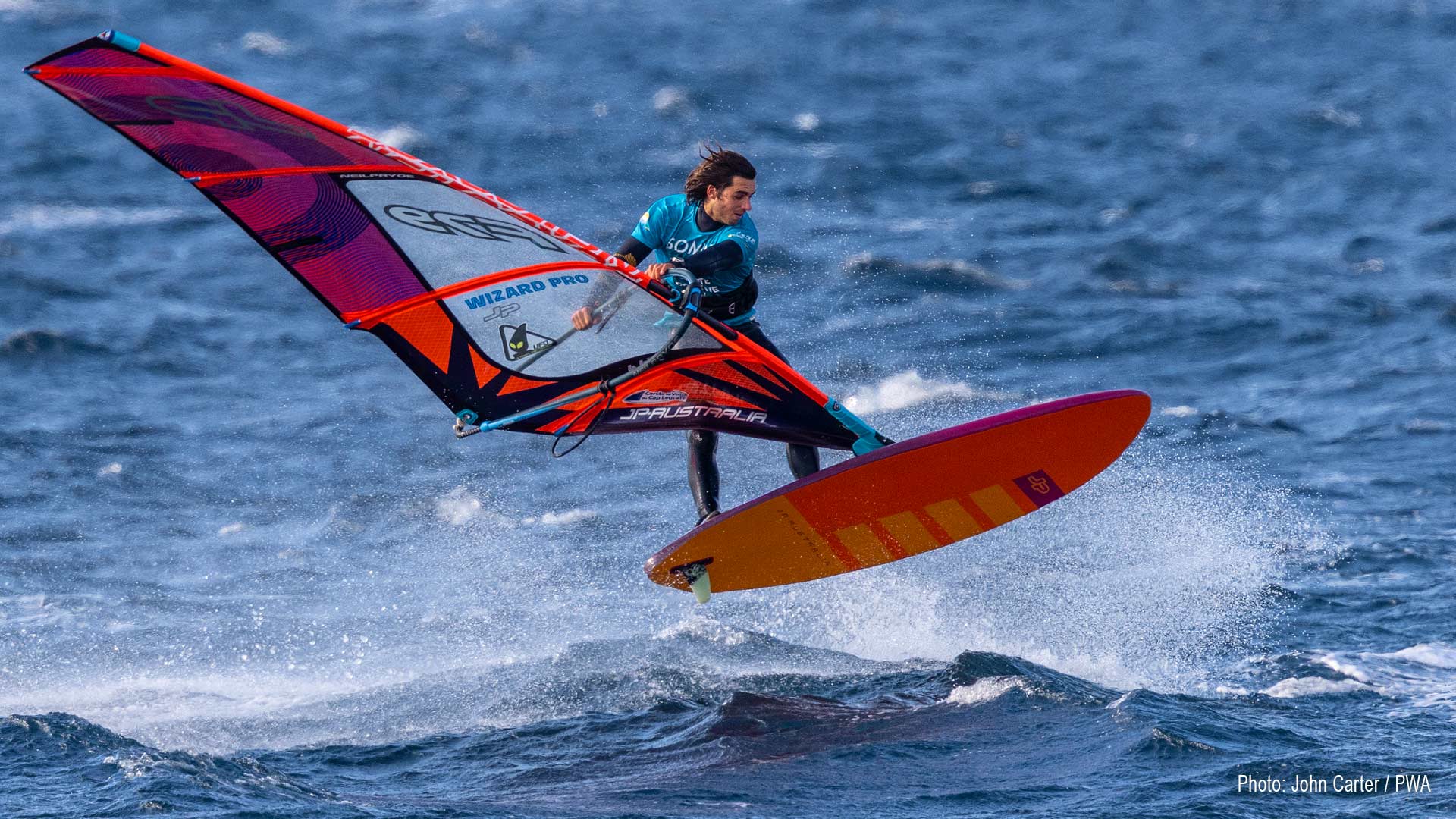 Sam Esteve F-79:
"The PWA took place in my home country: It was also the first time I was competing in France for the PWA. So the atmosphere of the PWA event was super cool and everyone was happy to see each other again in Carro.
In the PWA heats I was pretty happy to land an Air Skopu in very light conditions. Last winter I train this a lot and it finally paid off! I'm glad to progress many rounds and be back in the top 5 PWA.
The EFPT tour provided some highlights, where the event in Greece saw some very nice conditions and especially Geneve was awesome because I could land my first, tow-in triple ration – the « Samair 3.0 ». A insane feeling and the crowd where on fire !
Overall, the season was a pretty considering the circumstances. Furthermore, I could compete in new disciplines as I started speed sailing with foil and fin.
Can wait to be back on the tour in 2022 !"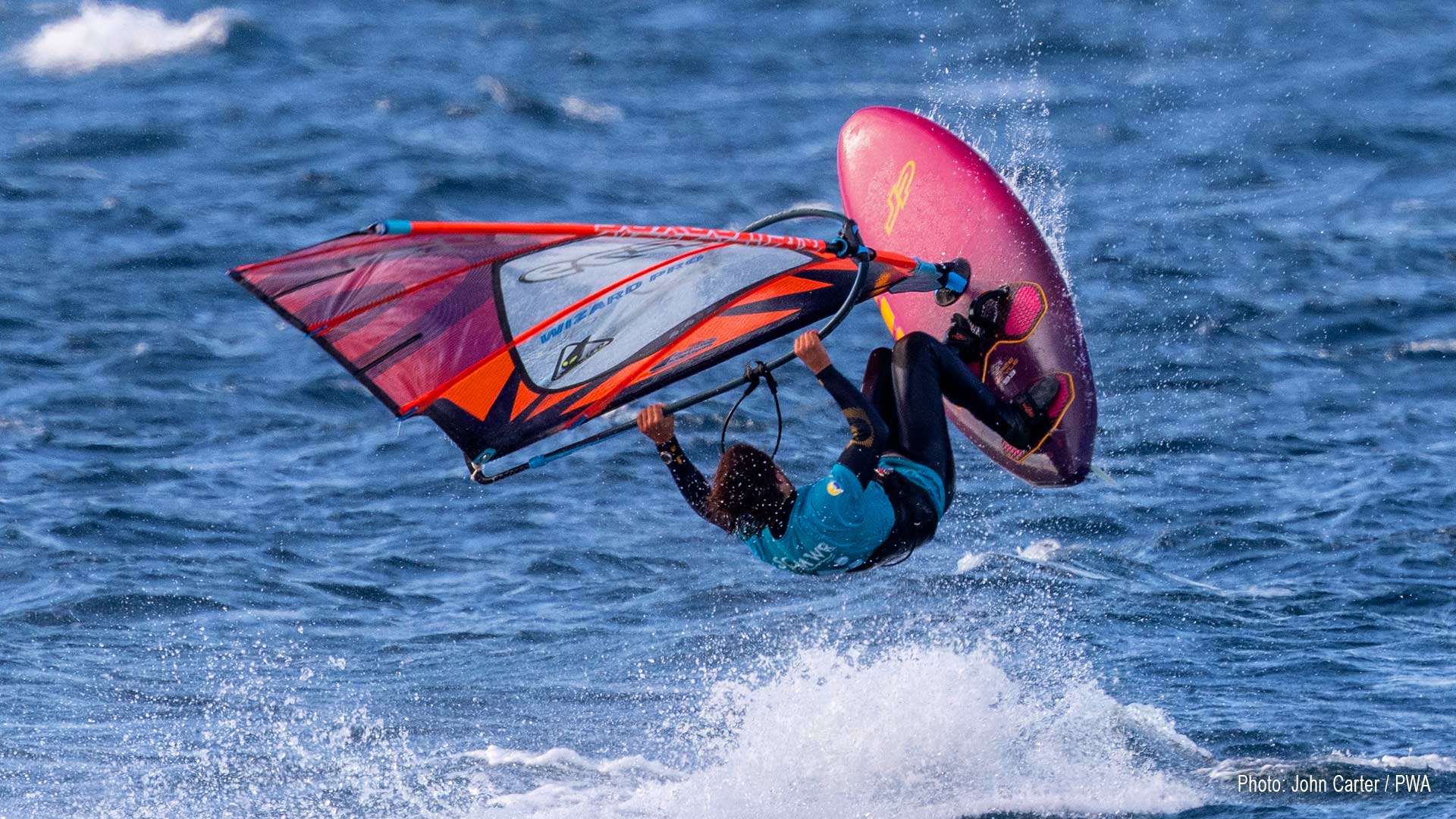 Nico Akgazciyan F-400:  A big grin at one of his best PWA results: # 9th !