Hybrid
Tour & Surf
The subtle displacement bow flowing into a double concave bottom with soft thin rails and narrow tail provides a combination of good glide, stability and solid surfing characteristic. The Hybrids feature a long efficient water line offering a superior paddling sensation on flat water with the longboard type of tail for easy rail to rail transfers in the surf.
Take the Hybrid for a tour or a downwind run and check out the waves on your way back. Bring along your necessities under the bungee tie downs for a great day on the water.
1.
Long efficient water line
2.
Subtle displacement bow

SUP Boarder
"The Hybrid is a board that really can do it all... The Hybrid is a superb shape and designed board, well worth the extra money if you have no transport issues." (Hybrid compared to the CruisAir LE)
+ more
SUP World
"Providing great primary stability for your everyday paddle, and great features for surfing as well!"
+ more
The Hybrid is literally hybrid as it adapts to any kind of condition and therefore it is an easy allrounder - no matter if you´re paddling in the ocean or on the lake.
Greta Marchegger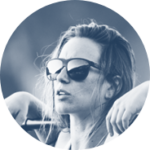 Surfing or cruising? Have fun on the waves and enjoy your paddle session on flatwater, too. This board is the right choice if you want to enjoy the ocean in any condition.
Tommaso Pampinella