Hybrid
Tour & Surf
Der leicht konvexe Bug, der in ein doppelkonkaves Unterwasserschiff mit weichen und dünnen Rails und einem schmalen Heck fließt, bietet eine Kombination aus gutem Gleiten, Kippstabilität und solider Surf Performance. Die lange und effiziente Wasserlinie sorgt für müheloses Paddeln auf flachem Wasser - die von Longboards bekannte Heckform macht Turns in der Welle unglaublich einfach. Der Hybrid ermöglicht großartige Paddeltouren, schnelle Downwinder und tolle Wellenritte. Dank der serienmäßigen Packgummis auf dem Deck, findet alles Wichtige Platz für einen tollen Tag auf dem Wasser einen sicheren Platz.
1.
Lange und effizeinte Wasserlinie
2.
Raffinierter Verdrängungsbogen
3.
Doppelt-konkaver Unterboden

SUP Boarder
"The Hybrid is a board that really can do it all... The Hybrid is a superb shape and designed board, well worth the extra money if you have no transport issues." (Hybrid compared to the CruisAir LE)
+ mehr
SUP World
"Providing great primary stability for your everyday paddle, and great features for surfing as well!"
+ mehr
Der Name sagt alles: ein wahres Hybrid-Board, das sich an alle Bedingungen anpasst und ein echter Allrounder ist. Ganz egal ob du im Meer oder auf einem See paddelst!
Greta Marchegger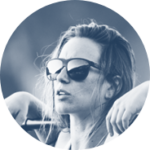 Surfen oder Cruisen? Hab Spaß in der Welle oder genieße einfach eine gemütliche Paddle Session. Dieses Board ist die perfekte Wahl um in allen Gewässern Spaß zu haben.
Tommaso Pampinella